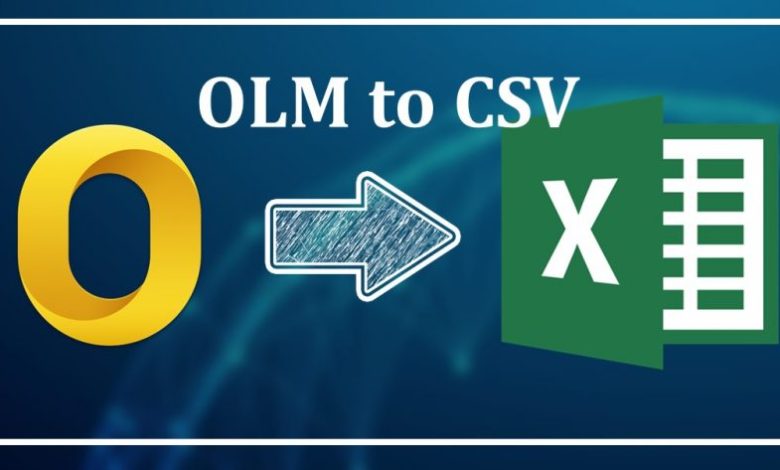 Summary: Although OLM files can only be opened in Microsoft Outlook for Mac, it is a challenging procedure to open an OLM file in a Windows platform such as Excel, Outlook, Thunderbird, Windows Live Mail, and so on. This section will teach you how to import OLM to Excel without any data loss and modification.
There can be a situation where the user wants to save their emails from an OLM file, and what will be the perfect format other than CSV. Thus to transfer all OLM file data into CSV format, we will discuss a secure and instant solution.
Let's take a quick look at the OLM and CSV file formats before moving on.
OLM File: This file format saves email messages, and users of Mac Outlook can convert their database to OLM format. It may store various objects such as email folders, address books, and so on.
CSV File: A Comma Separated Values (CSV) file can only save data in plain text, such as numbers or text, but it is one of the most helpful file formats for storing a large number of contacts. The data in a CSV file may be accessed using any spreadsheet tool, such as MS Excel or Google Spreadsheets.
Note: In order to import OLM to Excel, you need to convert OLM to CSV format. After that, you can easily access OLM file emails in Excel Sheet.
Why Import OLM file into Excel 
There can be various reasons for this import process depending on the user's needs. Some of the motives for this import process are followed;
CSV Contacts may be opened in any spreadsheet tool, including Excel, Google Spreadsheets, and others.
A CSV file may be readily imported into any email client's email services.
In the CSV file containing details, users can save an infinite number of contacts.
 Manually Import OLM to Excel Sheet
To perform this native way, you need a Mac OS Sysetm and Outlook installation in it. If you have both, then you can perform these instructions.
1. From the Import/Export menu, import your OLM file into Mac Outlook.
To perform this process follow these steps:
In Outlook interface go to File >> Open & Export >> Import/Export.
Click on Import from another program and File >> Outlook data file (.olm).
Browse the file and select the folder that you want to import.
At last, click on the Finish button. Your OM file is uploaded on the Mac Outlook interface.
2. Export OLM File  from Mac Outlook
Again go to File >> Open & Export >> Import/Export.
Click on Export a File >> Comma Separated Value and click on the Next button.
Choose the saving location and click on the Finish button.
Here completes the process, now it will be easy to read OLM file emails in Excel with complete data.
The Drawbacks of Using the Manual Method
You can only convert OLM contacts to contacts using the manual technique.
It is not possible to convert other data from OLM to CSV.
A time-consuming and difficult procedure.
Outlook It must be necessary to install.
Import OLM to Excel Using Expert Approach
For instant and secure OLM to Excel import process, use Xtraxtor OLM to CSV Converter tool. Using this tool you can swiftly import multiple OLM files into CSV format in a single attempt. Along with that, you can also import OLM to Gmail, Yahoo, Hotmail, and many other webmail accounts.
Follow the given instruction to import OLM to Excel in Bulk.
1. Install and launch the tool on your system.
2. Click on Open >> Email Data File >> OLM File >> Select File or Folder.
3. Now hit on Export and choose CSV format.
4. At last, browse the saving location and hit on the Save button.
All Done! By selecting the folder option, you can import OLM to Excel in batch.
Why Choose Automated Tool
You must first convert the OLM file to CSV format before you can open it in Excel. As a consequence, we provide a terrific third-party option that customers may use in the case of an emergency conversion or if the manual method fails for a variety of reasons. The methods described above may be use to import OLM files straight into Excel. This tool has a number of advanced features, some of which are mention below:
It can convert emails, contacts, and calendars into over 8 different file types.
Can export multiple Outlook contacts from a single OLM file.
Allows you to import a specific OLM file into Excel using a data filter.
You can preview your selected OLM file in real-time before converting it.
Also, you can use the tool to convert OLM files to MBOX format.
All current Windows OS versions are support.
Conclusion
This writes up is all about a secure way to import OLM to Excel without losing a single bit of data. For that we mention two solutions – Manual and Automated. While manual has certain limitation, thus in the same blog we mention a tested and recommended software. This programme is quite simple to use and offers a lot of extra capabilities, some of which are shown above. If you need to convert OLM to CSV on Mac quickly, we recommend that you utilise the third-party programme listed above.