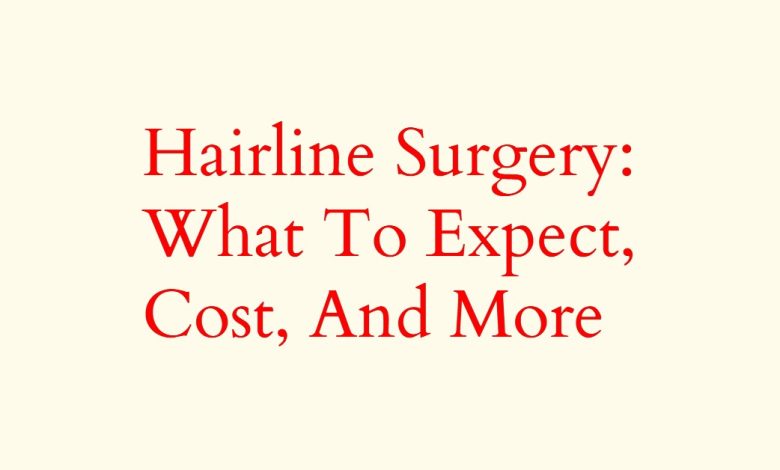 Hence the modern trends in hair loss treatment are taking their place day by day. So, now you can have a diversified choice to get rid of the problem of hair loss. You probably know that implanting grafts through hair transplant surgeries is possible. Now, you can also get a prompt solution with the help of hairline surgery. Yes, this is a new age procedure that works amazingly to cover many aspects. It can be used for forehead reduction, facial structuring, and receding hairlines. Basically, the technique is considerably used for treating the problem of forehead reduction.
How This Procedure Works And What Does It Engross?
If you have a larger forehead, then it could definitely make an adverse impact on your personality. Well, it might be due to genetics, hair loss, surgeries, or cosmetic reasons. But, if you want to cover up your receding hairline to get a natural look, this procedure works. It is mainly a surgical process that is done by given general anesthesia. It could work to reduce the bleeding and pain in the forehead. This procedure involves some steps that are as follows:
Skin Marking
The hair surgeon will first mark the area of the forehead to be removed with a highlighter. The procedure requires utmost care to prevent follicles and nerves from the cuts. 
Numbing
The forehead area above the eyebrows would be numbed using local anesthesia.
Incision
This process involves the separation of skin from the connective tissue beneath. The surgeon will cut the area that is marked with the highlighter to be removed.
Forehead Shortening
The removal of skin will allow the top hairline to be connected with the forehead incision. This would pull down the hairline to close the gap and shorten the forehead.
Suturing
Your skin will be sutured together to minimize scar formation after the treatment. This would be done using a needle with a long thread to close the scar.
What Is The Recovery Period?
Being a patient of hairline lowering surgical procedures, you can return home in a short period. After surgery, the surgeon will allow you to go back to your home for a rest. Well, the procedure is surgical, so you will be asked to come back after a few days. The surgeon will make sure that you are recovering better without any infection in the scar. Nevertheless, you must not forget to take proper care of the scar. The surgeon will give you some post-care instructions for hairline surgery that you must follow. Once your suture is removed, you can enjoy natural-looking hairs and can get rid of a larger forehead.
Who Is A Good Candidate For Forehead Reduction Surgery?
It is good news that this surgery can improve the appearance of your overall facial structure. So, you can get huge benefits from this surgery if you have:
Desire to lower your hairline

Large forehead and want to shorten it

Thick hairs those are uneven to the height of your hairline

A flexible hair scalp

Are encouraged and dedicated to getting natural-looking hairline
However, you must remember that these factors are not good for you if you have hereditary hair loss. So, it is important to consult with a professional surgeon to know whether you are a good candidate or not.
Potential Side Effects Of Hairline Lowering
Though, all surgical cosmetic procedures come with some risks and potential side effects. So, this treatment also has some downsides that you must know.
Bleeding is a potent threat during and after the surgery.

Nerve damage can occur where the incision is made. However, the risk could become lower when you get it done by an expert hair surgeon.

Infection in the incision area could occur if you do not care about the surgery.

Scarring can become visible after the removal of the sutures. However, it will generally hide under the hairs.

Cost of hairline surgery
Well, the average cost of this procedure could vary from 8000 to 9000 dollars. However, you can get the treatment tailored to your specific needs. Therefore, the cost could be determined after evaluating the precise needs for the surgical procedure you want. It could also become costly as per the duration of the surgical procedure. So, it is advised to consult with a hair surgeon to get the right cost estimation prior to getting it done.
What To Expect?
Well, the most realistic expectation of this procedure is the after-procedure looks. You can get a hairline lowering up to 5 to 6 cm. So, you can have an appealed look for your hair. It will also make the appearance of your brows good. However, you can have swelling, forehead pain, and discomfort after the surgery. But, all these side effects will fade away as you recover day by day.
To Sum Up
A hairline surgery, also known as forehead reduction, is a smart cosmetic procedure. It can work remarkably to shorten the large forehead. You can get it done for expected outcomes by consulting with experts. They can assess your hairline and can make a customized treatment for your needs and expectations. You simply need to visit the best hair restoration clinic by finding it online. The results you get will certainly amaze you when you get them from a professional clinic.