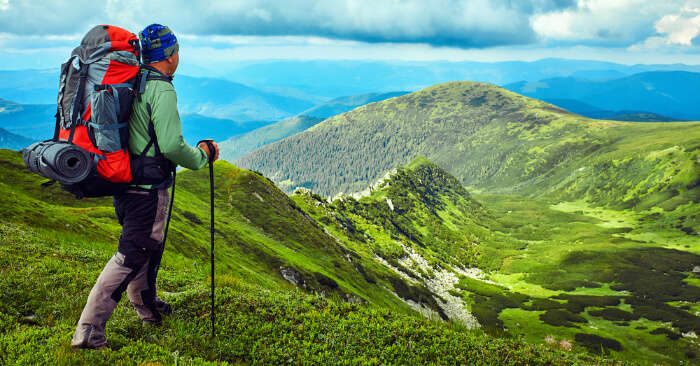 We have compiled here a list of 5 treks that are very popular all over the world. Those who love hiking should do them. By doing these treks you will get a feel of satisfaction. We all know that one of the best ways to discover a foreign country is to walk the land, sleep under the open sky with stars. A walkthrough and through some of the world's biggest peaks and views is the best way to witness nature's grandeur and splendor paired with a human's persistence and desire. Hiking or treks is a kind of escape for some people as well as a means of testing one's personal limitations for others. It's something that expands possibilities on both a personal and global level. 
John Muir Trek, USA
The John Muir Hike runs for nearly 220 miles through California's Sierra Nevada. It is one of the most popular in the country. The route traverses through six mountain passes, one of which is well over 4000 meters high, and much of the route is above 3000 meters. The trek would take roughly twenty days to complete and will pass through notable sites such as Yosemite National Park, Sequoia National Park, and Kings Canyon National Park. It will be marked by gorgeous valleys and creaks. Between June and November is the greatest time to overcome this beautiful trek. Try to carry an extra tent during trekking for emergency situations. Ozark trail tents are available online which you can buy after checking their reviews.
Everest Base Camp, Nepal
It is in the bucket list sight not just for trekkers, but for many others throughout the world. You will traverse gorgeous rivers, visit Sherpa settlements, and Buddhist monasteries as you climb to altitudes of up to 5,500m. When you take a breather to catch your breath, you'll notice that it's taken in a very different way as you marvel at your surroundings. The Everest Base Camp hike is rated as moderate to tough. It is a true challenge that requires a strong degree of fitness. The round-trip journey would take at least twelve days and will provide spectacular vistas of the world's tallest mountain.
Routeburn, NewZealand
On New Zealand's South Island, the world-famous Routeburn Track spans two national parks. These two national parks are Mount Aspiring National Park and Fiordland National Park. The Harris Saddle is the highest point in the park. It is with excellent long-distance views in all directions. The track has been in use since the late 1800s. It is recognized for its majestic mountain peaks, breathtaking lakes, and beautiful waterfalls. The track is good at any time of year and is designated as a 'Great Walk' by the New Zealand Department of Conservation, with four well-maintained shelters.
Markha Valley, India
The Valley walk spans three passes and follows the gorgeous banks of the Markha River valley. This makes it one of the most popular in Ladakh, India. The walk, which travels through Buddhist monasteries, towns with ten to fifteen dwellings, and high altitude pastures, can take between six and eight days and includes the crossings of Stok La, Kongmaru La, and Gandla.