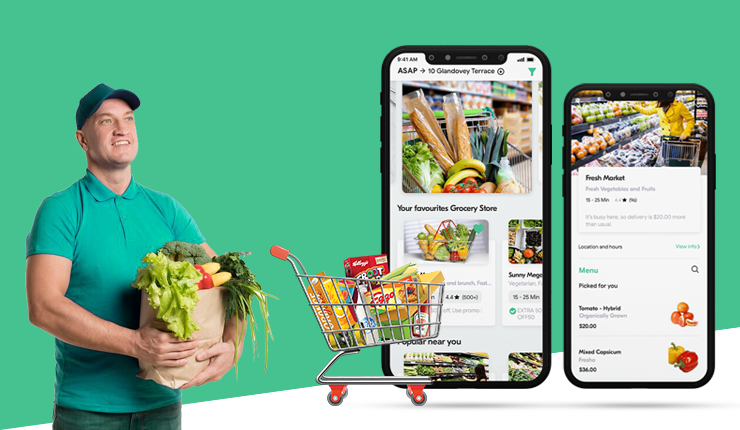 Today, you will find a good percentage of shoppers performing purchases of household items online. This is something that has become possible thanks to the presence of the on demand grocery apps.
Thanks to these solutions, customers can place some taps on the app, place orders, and get their desired items quickly delivered to their doorsteps. This has been responsible for the popularity of these solutions soaring and the online grocery business becoming a promising market in the first place.
According to Statista, 2026 would observe the sales through the on demand grocery apps soar by 20.5%. These attractive numbers suggest the importance of going online for traditional supermarkets. As you read the lines below, you will get educated on the seven strategies that assure you to build an online grocery business that drives maximum value for you from Day 1 and is successful, at the same time.
How to Setup an Online Grocery Business? 7 Steps to Follow
Assess the Market Demands to Ideate App Requirements
This is something that you need to keep in mind first before you create an online grocery business. Hence, research the requirement of an online grocery store. This is easy to perform. All you need to do is study the region where you plan to launch the setup. Next, examine the people and their buying behavior. All this, in the end, will give you an insight into the overall success that the app will be able to bring to your grocery startup.
Before you create an app for your grocery business, there is another step you need to perform. Do competitor research. This is something that will help you to a great extent. It will help you understand the techniques they have adopted to make their online grocery business stand out through features added.
The step is crucial to follow as it goes a long way in identifying the missing elements in the competitor's solution and understanding if its addition will drive value for your online grocery store or not.
Know an Ideal Business Model that Promises Success
The ultimate aim of your online grocery business is to help you make maximum profits. Hence, select an ideal business model that makes this task streamlined. This will ultimately also help you and supermarkets to earn considerable revenues.
There are three business models you can ideally select from – one, where you partner with offline grocery merchants and list them on your website. Second, where you post products on your grocery delivery website, customers select the items from your site. After the selection, you work towards product delivery. Grocery delivery marketplace where tasks like warehouse management, logistics management, and other tasks get managed in one place.
Making an ideal selection is crucial to the success of your venture. This will assist you in conveniently determining the percentage of profits you will be able to generate in the long run.
Check Out Features Present in a Hit Grocery App and Include Them
After you have decided on the business model, the next step is to get a list of features you wish to include in your app. This will help customers find items they are looking for and shop for them. It will assist the supermarkets in seamlessly performing different tasks like inventory, staff, and vendor management and ensure that you – the grocery delivery business make profits from Day 1.
The constituents that assure to make this a cakewalk are grocery tracking, order management, logistic management, product management, social media integration, and so on. Adding this will allow you to give your grocery delivery set up a competitive edge.
Examine the Modes of Payment to Makes Shopping Easy
After you have identified the features you will include in your online grocery store setup- the next vital step is to examine the modes of payment you wish to include. This will help you to accept payment for the items customers shop for.
The modes you can include- are debit/credit card, cash on delivery, and so on. These modes will make shopping convenient for customers and make it easy for your app to get a unique feel.
Note – Saving money on payment gateway costs becomes easier with COD. Therefore, you can include this within the on-demand grocery app you create.
Create an Effective Marketing Strategy
Before connecting with a grocery delivery app development company; invest in marketing activities. This will help you to increase your visibility among end customers.
Therefore, you must create an effective marketing plan or strategy. This would define your business and its attributes. It will give customers an idea of the products you would be selling, the digital marketing strategies you would be adopting to increase visibility, and so on.
Hence, use SEO tools, affiliate programs, email marketing, and so on, followed by publishing blogs, articles, etc., ensuring that more customers know about your online grocery business and the services you provide. This ultimately will drive maximum value for your grocery venture and obtain profitable returns from Day 1.
Connect with a Grocery App Development Company
Once you have researched the target audience, the features, and the modes of payment that will make your grocery delivery app popular, the next vital step is to connect with a grocery app development company.
Embracing unique techniques during grocery delivery app development and on demand grocery app development services will help you get an app that makes grocery delivery services seamless and give your online grocery store a competitive edge.
The intuitive UI and unique features will give maximum value to your online grocery business from Day 1.
Adhering to all these steps while setting up an online grocery business will allow you to create a setup that makes grocery shopping seamless for customers and makes profit generation simple too!
Key Takeaways
Getting your grocery business transformed with a strong online presence is a really profitable proposition. It will ensure customers can save on time considerably and finances too. It will also give the necessary support to the grocery stores to build a strong online visibility and perform their different store management tasks in an automated manner. Finally, it will aid you like the grocery delivery startup to earn a profitable amount of revenue from Day 1 based on the shopping that customers perform on your app.
Wrapping Up
Today's 21st-century millennials depend upon convenience! This has led to the popularity of online services in the first place. The presence of apps for almost every purpose, like, grocery shopping which we discuss in the article here, has made life extremely easy. It has also given due assistance to the online grocery business in gaining popularity.
However, it demands that the right set of techniques be followed during grocery delivery app development to create a robust app that is easy to function and makes grocery shopping easy.
Thus, connect with a grocery app development company to empower your online grocery business with a ready-to-launch app today. Being modifiable- the solution will be easy to modify as per your changing business needs. All this will ultimately help you to obtain maximum returns from day 1. It will also aid the grocery stores to perform tasks like inventory and payment management seamlessly and build strong visibility online.