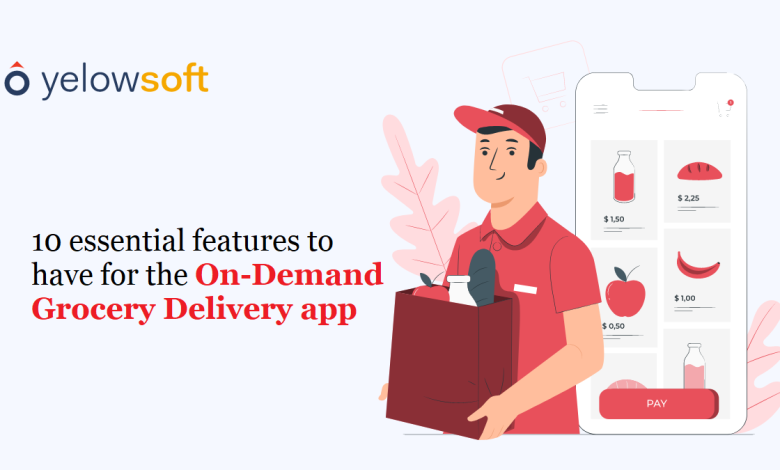 The on-demand delivery is on a spree now and everything whether medicines, flowers, or your favorite food are just one tap away from your smartphones. The eCommerce has changed the market insights and on-demand grocery delivery app will be part of it to be flourished with time.
With the highly busy and hectic schedules, everyone is looking for ease and avoids standing in long queues to buy their daily necessities and groceries. On-demand grocery delivery solutions are in high demand and to meet the competitive edge your app should have some essential features which we are listing in this blog.
Let's peek into the top 10 essential features to add when you are planning to start a grocery delivery app for your business.
10 Features Can Make Your Grocery Delivery Business More Profitable
The increased usage of smartphones and the internet has made the eCommerce platform stronger. And has made a huge impact on on-demand grocery delivery software services.
Some of the important features listed as follows for you to consider when you are planning to develop a grocery delivery app for your business:
Easy Signup Process
This will be the first step for your customer to get interacted with your on-demand grocery delivery app. With secure and easy signup process your customer can make account on your app and make purchases.
Social media integration like Google, Facebook, Instagram, etc. provide better and quick signup option and better user interaction. Biometric signup will be add-on feature if provided will help you to gain customer's faith.
Enhanced and Customized Search
Your customer will be more convenient when they can easily search for their favorite product from their favorite brand. A faceted search filters down the necessary product from the search list.
An autosuggest feature can be added during your on-demand grocery app development that guesses the required product name and saves your customers' time and preference.
Order Tracking and Delivery Status
Delivery management services for an on-demand grocery delivery app are the most essential and integral part of your business. Provide your customers with a Real-time live tracking feature through your app.
This feature is actually helpful for your customers as well as for you as it helps to track the orders and manage the delivery system easily.
Cart Sharing Feature
This feature allows your customers to share their shopping cart with family and friends. The listed products can be shared with family and friends and they can edit that list too. It can also be used as a wishlist feature that your customers can use to refer to the same list for their future purchases.
Hassle-Free Payment Options
Quick and secure payment methods make your app more adaptable for your customers. A secure and hassle-free checkout with multiple payment options like e-wallet, mobile money transfers, bank cards, etc. will make your on-demand grocery delivery app more convenient and your customers' favorite.
Offering versatile and secure payment methods is the biggest factor to gaining customer loylty and generating good sales.
Great Deals and Offers
Exciting deals and offers are helpful to attract more customers to your on-demand grocery delivery software. Make separate sections for new deals and exciting offers so that your customers can view their required products, compare them easily and make purchases.
Rewards and discount vouchers can help you to attract new customers and gain the retention of your old customers. You can also add recommendations and cashback points with your online grocery shopping app to increase your customer's interest.
Easy Return and Cancellation Policies
Customers' satisfaction should always be the primary aim of any business owner. And as it is very important for their survival in this competitive market. If your customers find any product from your grocery delivery app does not fit the requirement. Or not as per standard, there should be some return policy for that.
The product return policy should be clearly mentioned so that it may not create any confusion later on. Also, if the customer changes his mind and wants to cancel the order or reschedule the order, your app should have the feature to do so.
Order History and Wishlist
This feature should allow your customer to view the summary. And details of their previous orders and can sort them by date. This will help them to check their old preference and make mind for the new products.
The wishlist feature can also be add to your on-demand grocery delivery solution. Where if your customer viewed the product or its description and doesn't make a purchase has been save as a Wishlist.
With the next usage of your app, those products or their related ones could be highlight to make a strong recommendation for your customers to purchase them.
Customers' Review and Feedback
Customer review and feedback really help your business to analyze the working and operations of your grocery delivery business. Customer experience will help you to recreate the process and resolve any loopholes if found by your customers and can help to smoothen the process.
Push Notifications
Timely updates and notifications to your customers will make them connected with your grocery delivery app. In order to build a successful grocery delivery app. And ensure that your customer gets the latest updates, offers, and coupons on your product.
This will help your customers to know the latest trends and updates from your business.
Conclusion
Grocery delivery apps are useful and become popular with smartphones and internet penetrations. This is the right time for your business to start a grocery delivery app development to make your strong online presence. And manage your business operations in a smoother way.
The above-mentioned feature will help you to boost the demand for your grocery delivery software solution. And deliver a user-friendly application to your end-users.
These features will also help you to gain more customers, an easy. And accessible mobile app, a wide range of choices, and cost-effective promotions.