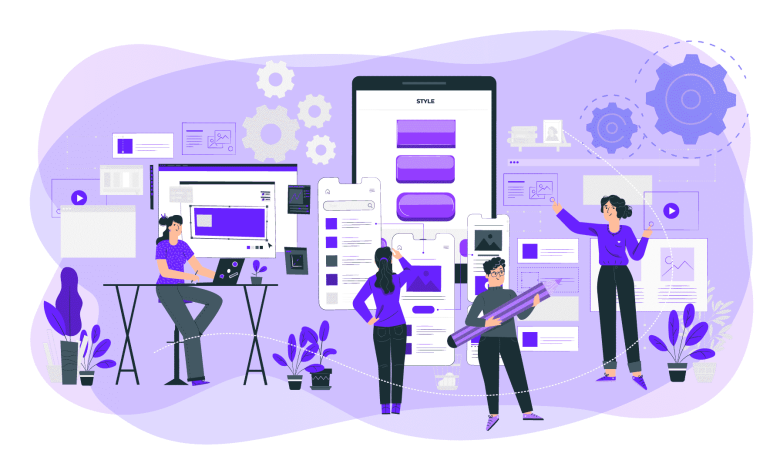 A businessman can understand how much of an effort is required to run a company. And, at the same time several businessmen work on different responsibilities such as accounting, sales, professional development and many others. However, there are a majority of people who search for products and services online. If you want to make every customer satisfied, it's really important that you have a user-friendly website with appealing attributes to accomplish this objective. So, availing of web design services is the best option for you if you want productive website design. It will be a lot of time saving and effort as well.
Now the question is how are you supposed to decide that all of the crucial components are covered or not? Or if your associate is well known for all the required skills for web designing? To know exactly, you need to have knowledge about the two important aspects of a website – UI and UX. Yes! I know it feels like they both are the same but don't confuse them with each other. Because they are very different from each other in functionality. Although they have different roles, yet these two go along in the making of a good website design which can lead you to sales and conversion.
In this post, you will be learning about how to incorporate UX/UI in website design and why you as a businessman need to spend on it. So, let's get into it!
How UI/IX go along in a website design
Once customers connect with your firm, a well-designed UI/UX might greatly enhance their pleasure. Increased conversion ratios, recurring consumers, and increased income are the end results. If it comes to the Production process, the incorporation of UI/UX is indeed an excellent choice. One may contact an agency to get the required web design services to bring you the best and attractive website since an expert developer could assist you in working with UI/UX components. Partnering with a skilled web developer may help you create a sense of worth for your customers.
Any firm can use a site as a virtual gallery to display business-related facts, credentials, ratings, goods, and services. Do you realise that a great site layout determines 75% of the website's validity? That's why it's crucial to get a basic understanding of UI/UX development so that you may understand how both function collectively to ensure that your website achieves your corporate goals.
Consider yourself a user to appreciate their frustration! Everybody prefers alternatives that are less time demanding. Expecting consumers to sit tight if your company's website requires the utmost amount of time to open. By making use of UI/UX, a slow loading site could instantly drive away your prospects and benefit your rivals.
Let's figure out what these two abbreviations imply!
The term UX imply user experience
The user experience (UX) of a website incorporates important reasoning to understand and foresee how people are interacting using products and services. Accessibility, assumption, layout, and usefulness are all factors to consider. Fundamentally said, it's all about providing an outstanding user experience. UX strategies will make it easier for visitors to enter and exit the site.
The abbreviation UI refers to the user interface
The user interface is a series of instructions or options that allow customers to interact with the software. The user interface (UI) setting determines how quickly and intuitively a person could locate and arrive at the desired goal. The user interface (UI) facilitates interaction among visitors and the site.
Both UI and UX are reasonable design ideas that have the same goal in mind: to create a fantastic end product. It's hardly an exaggeration to argue that UI and UX are linked components of website design; without one, the other would be lacking. It's critical to integrate these ideas in separate organisational responsibilities once it concerns separating UI and UX.
Whereas UX focuses on how clients feel when interacting with a site, UI is concerned with the planning process and requirements. UI design is concerned with generating an appealing and enjoyable online interface, while UX is concerned with user experience. The goal of a good UX is speed and a smooth user experience. The UI, on the opposite side, is made up of components, visual interactions, and technologies that are intimately related to the design process.
Why should anyone spend on a UX design?
As you know, how important it is to have a user-friendly website. Because people pay attention to the kind of website that is fast loading and provides a smooth experience to the users. Here are some reasons why one must spend on a UX design.
Helps improve people's experience.
Help in reducing bounce ratio.
Bring in e-commerce leads.
People don't have to contact customer service as all the important information is provided already.
Assist in boosting website ranking.
Why should you invest in a UI design?
Beyond everything, the goal of UI design is to provide data and create the aesthetic context of well-planned UX. Below are some of the reasons to spend your hard-earned money on UI design.
Color palettes, typeface design, typeface, and overall UI design are all aspects of UI that tell everything about your business.
Persuade people who visit your website.
Help retain customers on your site.
In short, when you want to make a productive website you need both UI/UX designs incorporated. That way you can make your customers loyal to your company and they will trust you even more. However, for a great website you can avail of web design services to make your work easier.