Software
How to Convert Outlook Data File to PDF in Batch with PST to PDF Manual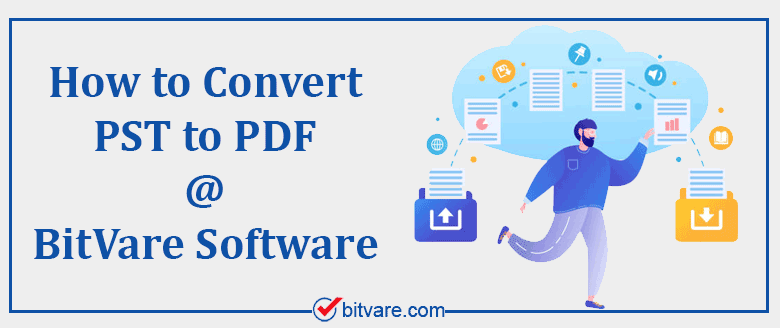 Are you looking for solution to solve how to convert Outlook data file to PDF Adobe documents? Then this PST to PDF blog is accurate platform for you that will assuredly help to convert Outlook data files to PDF documents without missing any database. Basically, this write-up has two solutions to do the migration of Outlook PST file to PDF so read this blog till the end and get chance to smartly move Outlook PST File to PDF.
We know Outlook is popular mail client among users and also in use for personal & professional work. Outlook has smart features which are required for home & commercial users so today, millions of users are using Microsoft Outlook. On the other hand, Adobe PDF is also in demand at everywhere – collages, schools, offices, courts, hospitals, etc to represent their documents. It has not only text function even it supports all smart features as document – text, formatting, content, attachments, images, hyperlinks, etc. PDF also has password protection facility to protect documents from unneeded access. So, there may possibility that users have requirement for PST File conversion to PDF. Let's know how to do that –
How to Convert Outlook Data File to PDF with Manual Method
To convert Outlook mails into PDF, Outlook provides option to save single mail into PDF at a time. If you have a few Outlook mails for transferring in PDF then you can do it directly. Lets know how to move Outlook PST File to PDF directly –
Firstly, launch MS Outlook on your desktop screen.
Select any mail that you need to save in PDF. Go with File Menu.
Then select Print & Microsoft Print to PDF option.
If your printer is saved as default then you can also save emails to PDF with attachments. For that, go with print-options from Microsoft Print to PDF function.
Tick on the save attached files with emails and click on OK button.
Choose saving path and click on OK button.
Note – repeat the process to move multiple Outlook emails to PDF again & again. If your printer is not set as default then it will not save emails attachments. Sometimes, it fails due to some technical errors. It is not useful for large mails migration. Outlook installation & proper configuration is required to do this task.
How to Move Outlook PST File to PDF Adobe documents with Automated Solution
If you are not satisfied with the manual process or have large PST file to convert in PDF or have Outlook large data migration to PDF then you can trust on the BitVare PST Converter that is for Mac & Windows both to convert PST files to PDF. It is helpful solution for unlimited mails data migration. The program can work on Mac system to convert PST files of Outlook into PDF Adobe documents and also convert PST files to PDF on Windows Machine. The program supports to convert all PST files to PDF at once and for that Outlook installation is not required so you can powerfully export PST file to PDF without Outlook. It supports very simple GUI so non-technical users can also handle it without any error. To know how to convert Outlook PST file to PDF in simple steps –
Working for PST File Conversion to PDF
Download the app and also launch it on your desktop screen.
Select PST File by two options.
You can see all selected mailbox and you can also untick the file which you don't want to save in PDF. Click on Next button.
Choose PDF option from select saving option function. Then select other desired option.
Click on Export button.
Migration will start and also display with green progress status bar. It will complete with a successful message. Click on OK button to exit.
The program will convert all selected PST files to PDF Adobe documents with all details. It enables to simply export PST emails & attachments into PDF Adobe documents. The PST to PST Converter can also save mails attachments separately on your local system. You can also download it and export 25 emails from each selected PST file into PDF at free of cost. You can try both explained solutions without any cost. Therefore, you can know how to convert Outlook data file to PDF at free of cost.
Also read –  https://www.rootarticle.com/technical-writing-all-you-need-to-know/