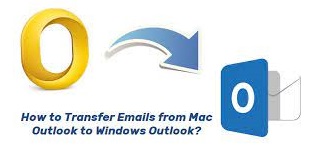 Transfer emails from Mac Outlook to Windows Outlook by converting Mac Outlook database to PST format. Microsoft has built Outlook for both Mac and Windows operating systems. Even though their parent company is same, they differ massively in their functioning. The Outlook for Mac stores its data in the OLM format, whereas, its Windows counterpart saves its data in PST.
It is not possible to run Mac Outlook data in the Windows Outlook and vice versa. Niether has Microsoft provided any bridge to convert the data from the former application to the latter. This limitation of MS Outlook needs external help and we are going to discuss all possible methods in this blog.
Manually Transfer Emails from Mac Outlook to Windows Outlook
This method is much more lengthy than you think and requires you to export the data to a third application and that is Gmail. Let us discuss the solution briefly:
Make an IMAP account preferably Gmail. If you already have a Gmail account setup, then enable its IMAP settings.
Then, configure your Mac Outlook account with the IMAP enabled Gmail account.
Now, you must move all emails from Mac Outlook to this account that has IMAP enabled.
After this, configure your IMAP account with the Windows Outlook
Lastly, transfer all mails from the IMAP Server to Windows Outlook.
As you can see, this method is very confusing and is not possible for the naive users to execute. Given other such disadvantages, users prefer automated tools. They are much more advanced ways of performing the transfer task. Hence, we talk about the direct way in the next section that will save you lots of time and efforts.
Transferring Emails from Mac Outlook into Windows Outlook – Automatically
A OLM to PST converter software is the ultimate deal when one needs to convert OLM files to PST. It offer some great features that make your task much easier and easy to execute. Here is a list of its key features:
Transfer Mac Outlook data to Windows Outlook in bulk.
Maintains the folder hierarchy and structure.
Supports Mac Outlook 2019, 2016, 2011.
Split the resultant PST file into small units.
Supports Windows Outlook 2019, 2016, 2013, 2010, etc.
Export the emails along with attachments.
Can export Mac Outlook data into multiple formats
Working:
The working of the tool is very simple which requires you to perform the following steps:
First, you must install the software and launch it on your system.
Then, click on "Add File" to browse and load the files in the tool.
Then, choose PST (or any other format) and apply the relevant settings.
Now, browse a location to save the files and hit the Export button.
Read More: Are Your Outlook PST File Not Showing Emails?
Conclusion
In this article, we have discussed how to transfer emails from Mac Outlook to Windows Outlook. Users can opt for any of the method. To achieve perfect and professional results, you must look into the automatic solution that provides a safe and secure environment for you to carry out your task. This software provides accurate and effective results quickly.