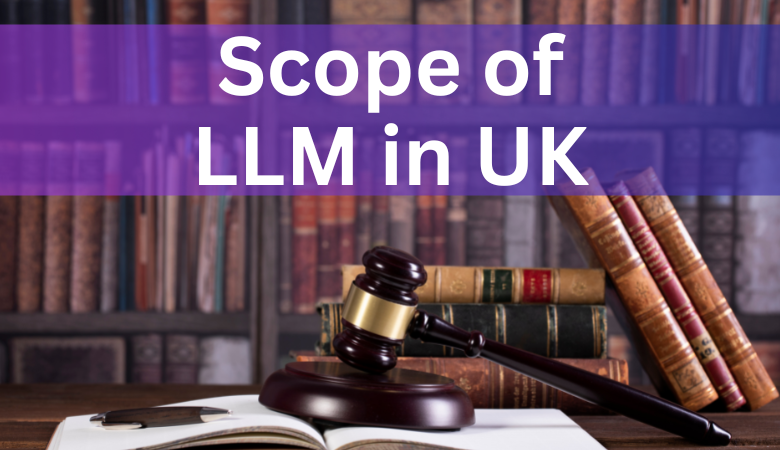 Latin Legum magister or Master of Laws, commonly known as LLM. It is a degree that can help students in gaining specialised knowledge in certain fields of law. There are numerous specialisations under which one can opt for an LLM degree. 
LLM is a demanding and very upskilling course. One can learn about laws and policies of certain sectors after completing their degree. But, not all countries offer LLM courses in vast fields. LLM courses in India are restricted to certain specialisations only. Consequently, in a progressive country like UK, an LLM degree is offered in endless specialisations. 
One can study in UK and open doors to endless opportunities in the law sector. LLM courses in UK are offered at different costs. Whereas one can also apply for scholarships by the Indian government to study master's in UK without any financial burden.  
Why Study in UK? 
Unlike in India, LLM in UK can be completed in one year. There are many other factors that make UK a perfect destination to study LLM. These are: 
One can pursue a master's in law in UK in a short duration of time and can practice it in their home country or in UK too. 

UK legal sector allows students to work after a student has acquired an LLM degree from UK universities. 

If someone plans to work in UK after studying LLM in India, then there are sporadic chances that one can get a job in UK legal sector. The reason is that in India, LLM is very generalised, and this doesn't serve the needs of UK legal sector. 

Universities that offer LLM course in UK are spread all across the country. One can choose the city they want to study in according to their convenience. This factor can help Indian students pursue LLM in cities that are pocket-friendly for them. 

Universities in UK are known for their excellent education techniques. One can get the best law education and get exposure to working with experts while studying too. 

UK universities offer an end number of specialisation courses in LLM; general studies, criminology, gender studies, human rights law, criminal justice etc. 
LLM Eligibility and Requirements in UK 
Students from different corners of the world aspire to study in UK. This is what makes UK universities prestigious and hard to get into. Every university has different eligibility criteria and requirements. Ideally, students must fulfil all the criteria and requirements to get into UK universities. General eligibility criteria for LLM course in UK for Indian students are: 
One should have a bachelor's degree in law (LLB or BA LLB). One should have cleared this degree with more than 60% marks 

Various universities demand IELTS or TOEFL scores. Though, if a student has more than 70% marks in English, most UK universities give a waiver on IELTS or TOEFL scores. 

Some UK universities mandate international students' LSAT (Law School Admission Test) scores. 

Having work experience in the legal sector can increase the chances of acceptance in UK universities. However, it is not mandatory to have one. 

One should have a well-drafted Statement of Purpose and Letter of Recommendation from a previous employer or professor. 
Documents Required for LLM in UK 
Marksheet of 10

th

and 12

th

standard 

Marksheet of bachelor's degree 

English proficiency exam score (if required)

Updated CV/Resume

Passport 

Bank statements 
Top UK Universities for LLM
Almost every university in UK offers LLM program, but only a few are regarded as the best. These few universities have the best faculties and provide excellent opportunities for placements. Here's the list of best UK universities with great ranking in UK and in the world:
University of Worcester

University of Oxford 

University of East London 

Queen's University Belfast 

University of Central Lancashire

Birmingham City University  
The average tuition fees for LLB in these universities range from £15,000 to £35,000. It depends on the university the student chooses. Students also have the option to apply for scholarships for international students; this can help them in lowering their financial burden. 
Job Opportunities After LLM in UK for Indian Students 
There are various job opportunities UK for Indian students after an LLM degree. Not only in England, one can get well-paying jobs in wales, European countries, India and other parts of Britain. The degree of UK universities is well recognised, which is why graduates of these universities are in demand. Some great paths one can choose after LLM from UK are: 
Work in commercial law firms 

Become a legal advisor in Britain 

One can pursue PhD in the same field or can become a lecturer 
One spends a lot of money while studying their dream course in UK. This money can be extracted in a year or two by working UK. LLM opens the doors to endless opportunities for graduates. Many established firms in UK are in need of legal advisors. Doing jobs in the UK can make students extract their study expenses in a year or two. 
One can easily do that if one wishes to work in India after pursuing LLM from UK. The Bar Council of India recognises 45 UK universities. In these universities, Indian students can study LLM and practice in India. One can choose to study in these recognised 45 UK Universities if they want to practice in India. 
Universities Approved by Bar Council of India 
BUCKINGHAM UNIVERSITY

CITY UNIVERSITY OF LONDON

COUNCIL FOR NATIONAL ACADEMIC AWARDS

HULL UNIVERSITY

INNS OF COURTS SCHOOL OF LAW

LEEDS UNIVERSITY

LEICESTER UNIVERSITY

LONDON UNIVERSITY

OXFORD UNIVERSITY

CAMBRIDGE UNIVERSITY

THAMES VALLEY UNIVERSITY

UNIVERSITY of WALES COLLEGE OF CARDIFF

UNIVERSITY OF BIRMINGHAM

UNIVERSITY OF LANCASTER

UNIVERSITY OF HERTFORDSHIRE

UNIVERSITY OF DURHAM

UNIVERSITY OF LIVERPOOL

UNIVERSITY OF WARWICK

UNIVERSITY OF BRISTOL

EAST ANGLIA UNIVERSITY

NOTTINGHAM UNIVERSITY

UNIVERSITY OF MANCHESTER

BANGOR UNIVERSITY

KINGSTON UNIVERSITY LONDON

UNIVERSITY OF WOLVERHAMPTON SCHOOL OF LEGAL STUDIES

SCHOOL OF LAW, UNIVERSITY OF SHEFFIELD

KENT LAW SCHOOL, UNIVERSITY OF KENT

SCHOOL OF LAW, UNIVERSITY OF EAST LONDON

SCHOOL OF LAW, UNIVERSITY OF SOUTHAMPTON

UNIVERSITY OF WESTMINISTER

BRUNEL LAW SCHOOL, BRUNEL UNIVERSITY

SCHOOL OF LAW, BIRMINGHAM CITY UNIVERSITY

NORTHUMBRIA UNIVERSITY

LANCASHIRE LAW SCHOOL, UNIVERSITY OF CENTRAL LANCASHIRE

SCHOOL OF LAW, SWANSEA UNIVERSITY

UNIVERSITY OF SUSSEX

SCHOOL OF LAW, UNIVERSITY OF GLASGOW

THE UNIVERSITY OF LAW, MOORGATE, AND BLOOMSBURY CENTRE

NEWCASTLE SCHOOL OF LAW, NEWCASTLE UNIVERSITY

PRIFYSGOL ABERYSTWYTH UNIVERSITY, PENGLAIS CAMPUS, ABERYSTWYTH, CEREDIGION WALES

ANGLIA LAW SCHOOL, ANGLIA RUSKIN UNIVERSITY

SCHOOL OF LAW, UNIVERSITY OF NORTHAMPTON

SCHOOL OF LAW, UNIVERSITY OF READING

BPP UNIVERSITY COLLEGE, LONDON

SCHOOL OF LAW, UNIVERSITY OF EXETER
Planning to pursue LLM from UK? Know its application process from scratch from Meridean Overseas Education Consultants. Call us at 1800-1230-00011 or mail us at application02@meridean.org